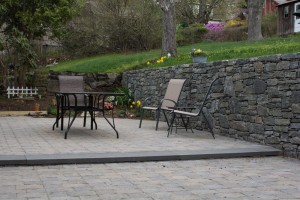 A stone patio or walkway can enhance any front yard, garden, or other outdoor space. Drawing on over 35 years of masonry experience, Shamrock Masonry can create a beautiful and affordable patio or walkway to complement your Central Massachusetts home or business.
Stone walkways and patios offer advantages over other materials. Unlike a wooden deck, a stone patio will never rot, splinter or need refinishing. Meanwhile, a stone walkway can resist the cracks that often appear in concrete walkways, while the stonework makes for a much more attractive surface. We take the time to lay a proper foundation and fit things right to ensure that your patio or walkway will last a lifetime.
Shamrock Masonry can take you through the entire building process, from design to stone selection to installation. Patio and walkway options include brick, flagstone, pavers, cobblestones and others in a huge variety of colors and textures. Whether you are looking for a simple brick walkway, a grand flagstone patio, or stepping stones in a quiet garden sanctuary, our skilled craftsmen will create the look you are after.
Owner Pat Delaney personally oversees every project and guarantees that your patio or walkway installation will be of the highest quality and at an affordable price. Contact Shamrock Masonry today for a free estimate on your Central Massachusetts stone patio or walkway.