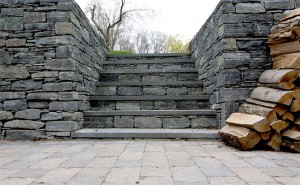 Stone stairs can be a beautiful and durable complement to your Central Massachusetts home, business or landscaping. Talk to the experts at Shamrock Masonry for assistance in creating attractive and affordable stone stairs that will last for generations.
Naturally weather resistant, low maintenance, and elegant, stone stairs offer many advantages over other building materials. Stone never rots, splinters or needs refinishing like wood; unlike concrete, stone is resistant to cracking and water absorption. Impervious to de-icing chemicals and freeze/thaw cycles, stone is the perfect stair material for harsh Worcester area winters.
Drawing on over 35 years of experience in the masonry industry, Shamrock Masonry can help you design and build the perfect stone stairs for your location. Whether you prefer dimensioned bluestone, patterned brick, or rustic granite slabs, we can find the right material to accent your site. We can also work with you to design anything from simple front steps to a retaining wall staircase to a step-down garden sanctuary.
Our masons have the experience and skills to help you realize your vision for your property. Meanwhile, owner Pat Delaney's personal attention to every project ensures that your stone stairs will meet your budget and needs. Contact Shamrock Masonry today for a free estimate on your Central Massachusetts stone stair project.