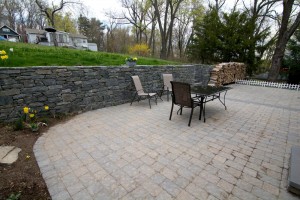 Few sights are more iconic than a New England stone wall. With their sense of permanence and history, stone walls are a natural choice for landscaping in the Greater Worcester area. Add this elegant feature to your Central Massachusetts home or business with a custom stone wall from Shamrock Masonry.
Whether you prefer the look of a traditional stacked fieldstone wall or are interested in something more modern, the experts at Shamrock Masonry can help you design and build a stone wall that will last a lifetime. Owner Pat Delaney has over 35 years of experience in the masonry industry and can help you create an affordable stone wall that will enhance the look of any home or business.
There are a number of choices to make when planning a stone wall, such as the type of stone and whether to build the wall dry-laid (better drainage) or mortared (more seamless). Shamrock Masonry also offers interlocking Versa-Lok walls in a variety of colors and styles. Whether you are interested in weathered granite, slate, or a fieldstone veneer, our stone wall specialists can walk you through the options to create a custom look that works for your project and budget.
Contact Shamrock Masonry today for a free site visit and estimate for your Central Massachusetts property's stone wall project.